» Sir James Mancham International Centre for Peace Studies and Diplomacy
MANCHAM MAKES GLOBAL HEADLINESView more »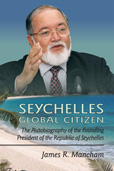 There is growing competition for power and influence in the Indian Ocean which is considered the world's pre-eminent energy and trade interstate seaway at the time when China and India find themselves locked in an "uncomfortable embrace." No one is better qualified to tell this story than Sir James R. Mancham
...more
B. Seychelles:
11.08.39 – KBE – PhD. (Honorary. Founding President of the Republic of Seychelles. President of the Global Peace Council of the Universal Peace Federation.
Education:
Seychelles College; Wilson College (London); Council of Legal Education (London 1958 to 1961); Called to the Bar (Middle Temple, London 1961); Auditeur Libre a la Faculte de Droit et Sciences – Economiques, University of Paris (1962)...
...more

Interview with Sir James Mancham
from
Sfera Politicii
magazine
Get Flash to see this player.
Sir James R Mancham "Seychelles Global Citizen" published by Paragon House

President Mancham featuring on the stamps of Seychelles