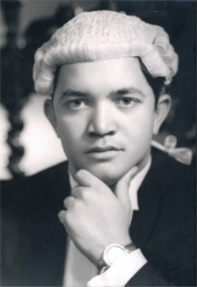 James R. Mancham called to the Bar in
London on 4th February, 1959

Mancham Sir James Richard Marie
B. Seychelles: 11.08.39 – KBE – PhD. (Honorary. Founding President of the Republic of Seychelles. President of the Global Peace Council of the Universal Peace Federation.
Education: Seychelles College; Wilson College (London); Council of Legal Education (London 1958 to 1961); Called to the Bar (Middle Temple, London 1961); Auditeur Libre a la Faculté de Droit et Sciences – Economiques, University of Paris (1962); International Institute of Labour Studies, Geneva (1968).
Career: Barrister and Attorney-at-Law, before Supreme Court of Seychelles (1963 to 1967); Founded Seychelles Democratic Party 1964; Member of Seychelles Governing Council (1967); Leader of Majority Party (1967); Member of Seychelles Legislative Assembly from 1964 to 1970 (Three times elected); Member of the Executive Council 1964 up to Self-Government; Led Seychelles Democratic Party to the Seychelles Constitutional Conferences in London (1970 and 1976); Pioneered International Tourism to Seychelles – was first person to disembark from a wide bodied plane in Seychelles (BOAC VC10 – 4th July 1971); First Chief Minister (1966); First Prime Minister (1976); Founding President of the Republic on 29th June, 1976; A victim of coup d'état of 5th June 1977, when in London to attend Commonwealth Heads of State Conference and to celebrate the Jubilee of Queen Elizabeth II; Lived in exile with London base from June 1977 to April 1992, when he returned to Seychelles to contribute to the country's return to multi-party democracy.
Some organizations with which Sir James is associated: