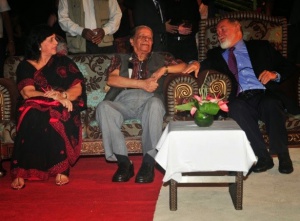 Mancham delivers keynote address at the 21st century silk road Indian Ocean islands conference in Mauritius
30.11.2016
It is announced from Glacis-sur-Mer that Seychelles founding President Sir James R. Mancham will be leaving Seychelles on Sunday 4th December to attend the 21st Century Maritime Silk Road Indian Ocean Islands Conference which is scheduled to take place in Mauritius from the 6th to the 8th December, 2016.
The conference is being promoted by the "21st Century Maritime Silk Road Indian Ocean Islands Foundation of Mauritius" led by Mauritius successful entrepreneur and hotelier, Mr Maxime King, and supported by the Mauritius Jin Fei Economic Trade and Cooperation Zone by Enterprise Mauritius and by the Bank of China who recently opened up a branch in Mauritius. The Jin Fei project's implementation started in September 2009. The investment in the Cooperation Zone is estimated at over RMB 4 billion which is being developed in Mauritius on 211 hectares of land and comprises the following components amongst others – an industrial zone for hi-tech manufacturing; stainless steel manufacturing; diamond processing, polishing and cutting; jewellery manufacturing, manufacturing of renewable products; seafood processing; business centres; hotels; educational services; traditional medicines – and will also provide financial services.
Mauritius serves as an ideal gateway between Asia and Africa and has a network of double taxation avoidance agreement with 13 countries in Africa. The Cooperation Zone Mauritius is positioned as a business platform to China and to Africa. Chinese companies can set up their investment projects in the Zone to penetrate the regional Southern African Development Community (SADC) and Common Market for Eastern and Southern Africa (COMESA) which represent potential of over 500 million consumers.
The initiative is to promote communication on Governmental cultural exchange, support and related policies for Industry, Finance, Investment and the collaboration between China – the Indian Ocean Islands – Africa cooperation projects.
Keynote speakers attending the conference are from Madagascar, Seychelles, Mauritius and Réunion which will be complimented by speakers from Canada, different African Nations, New Zealand and the USA.
According to Sir James, China has no colonial baggage to carry with respect to its development of political and economic ties with the Nations of the Indian Ocean and the Nations of Africa. In fact, China has immensely benefited from the process of globalization which has so far also brought benefits to several Indian Ocean and African Nations. China needs these resources to sustain its economic growth and energy requirements and Africa needs Chinese investments and commodities. These factors have provided an excellent backbone for the promotion of a win-win relationship based on trade and mutual interest.
"The Maritime Silk Road Initiative is therefore an idea whose time has come and I feel honoured and privileged to been asked to deliver an address at this coming historical event," Sir James said.
Sir James will be back in Seychelles on Friday 9th December. He will be accompanied by his son Richard Mancham, Jr. and Personal Assistant Mr Bernard Racombo.
» View all