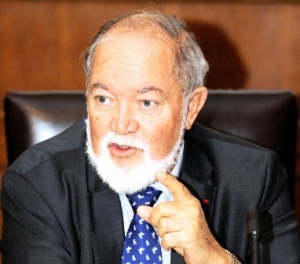 Mancham to receive lifetime achievement award of the global energy parliament
08.12.2016
It is announced from the office of Seychelles founding President that Sir James R. Mancham has been awarded the Lifetime Achievement Award of the Global Energy Parliament (G.E.P.) which is an organization organized by Isa Viswa Prajnana Trust (I.V.P.T.) – a registered charitable body functioning in Trivandrum, Kerala, India, since year 2000 under the leadership of the Founder and Managing Trustee, His Highness Swami Isa.
In 2015, I.V.P.T. was granted Special Consultative Status with the Economic and Social Council (E.C.O.S.O.C.) of the United Nations.
The Isa Viswa Prajnana Trust seeks to create a world in sustained balance through an inclusive vision of the individual, society, environment and the world.
I.V.P.T. conducts national and international seminars on Education, Science and Technology, Energy, Medicine, Economics and Peace.
It has been active, conducting programs and activities promoting human values, technical education to children and adults with disabilities, as well as providing relief and services to disaster victims and low income sectors of society.
The Global Energy Parliament is also involved internationally to ensure in self-sustaining, peaceful existence for human beings and the universe by (i) providing scientific research, recommendations and strategies to develop human thought through a comprehensive understanding of the relationship between internal and external energy; (ii) promote and develop scientific research on energy; (iii) create legislation and problem-solving strategies based on the science of energy; (iv) advance public awareness about energy balance, and programs to allow individuals to realize its benefits.
The Global Energy Parliament Research Centre conducts ongoing research into affordable forms of renewable energy, total systems of education, holistic forms of law and justice, society and culture, and integrated medicine.
In an e-mail to Sir James dated 3rd December, 2016, Dr. A. Sukumaran Nair, Chairman of the Global Energy Parliament, who was recently the Vice-Chancellor of the Mahatma Gandhi University of Kottayam, India, states – "It is an honour and privilege to inform you that the committee members of the Global Energy Parliament has nominated you for its Lifetime Achievement Award for your commitments and achievements in upholding the principles of peace, liberty and democracy and for your tireless work to bring about peace and harmony between nations."
Sir James will be leaving Seychelles for Sri Lanka on Saturday 10th December where on Sunday 11th December he will be presented with the award at the Presidential Palace by His Excellency the President of Sri Lanka, Maithripala Sirisena.
» View all